MNCM 2022 Annual Conference — Sponsor or Exhibitor
Apr 27, 2022
Location
Virtual ,
Categories Educational Event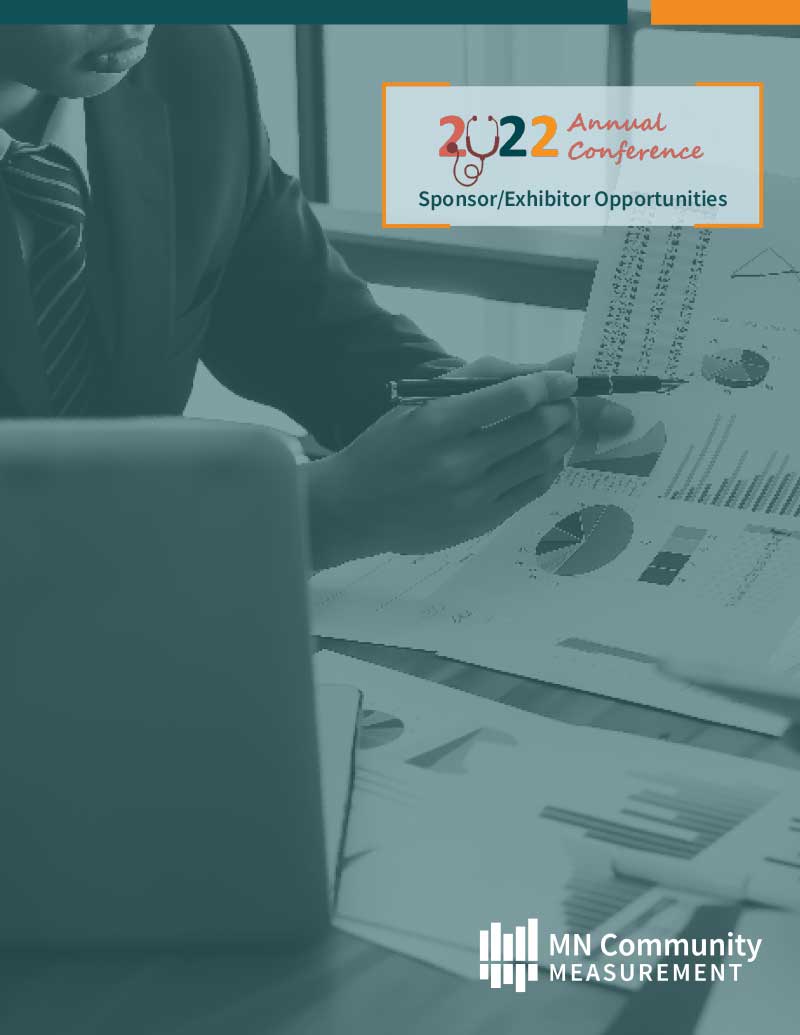 Registration for the 2022 Conference is now closed.
Join us as a sponsor or exhibitor at the MN Community Measurement Annual Conference 2022! You'll have the opportunity to engage with hundreds of health care providers, payers, business leaders, and more.
This conference will bring a focus on critical issues related to health care quality, cost, and equity. Attendees represent a diverse network of health and community leaders for a day of educational speakers and meaningful discussions. Look forward to topics and sessions focused on:
Leveraging data and collaboration to tackle health disparities
Addressing food insecurity through community partnerships
The future of measurement – in Minnesota and nationally
Who Will Attend?
Each year, 200+ health care payers, health care providers, quality managers, employers and business leaders, and policymakers partner together at the MN Community Measurement Annual Conference. They share best practices, lessons learned, achievements, and future plans in the areas of quality measurement, quality improvement, patient care, and cost containment.
Levels and Benefits
Platinum — $6,000
Five annual conference tickets
Recognition as Platinum Sponsor during seminar welcome and closing
Three Social media pushes prior to conference (one exclusive)
Premium recognition on all promotional and program materials including emails, website, signage, and electronic program (premium = 2x prominence of standard recognition)
Access to attendee list within conference app with direct messaging option.
Virtual exhibit (available and promoted to attendees one week prior to conference)
Recognition in conference app and support developing a robust presence within the app (sponsor attendee tags)
New this year: Embedded 30-second video in event marketing 2x answering the question: "Why does your company support MNCM's mission& vision?"

MNCM Mission: MNCM empowers health care decision makers with meaningful data to drive improvement.
MNCM Vision: At MN Community Measurement, we believe data is powerful and we're using it to lead the improvement of health care in our region. We work with doctors, hospitals, clinics, insurance companies, purchasers, and state agencies to design measures. We then collect, analyze, and share actionable data on health care quality and cost.
Gold — $4,000
Four annual conference tickets
Recognition as Gold Sponsor during seminar welcome
Three Social media pushes prior to conference (one exclusive)
Premium recognition on all promotional and program materials including emails, website, signage, and electronic program (premium = 2x prominence of standard recognition)
Access to attendee list within conference app with direct messaging option.
Virtual exhibit (available and promoted to attendees one week prior to conference)
Recognition in conference app and support developing a robust presence within the app (sponsor attendee tags)
Silver — $3,000
Three annual conference tickets
Recognition as Silver Sponsor during seminar welcome
Three Social media pushes prior to conference
Standard recognition on all promotional and program materials including emails, website, signage, and electronic program.
Access to attendee list within conference app with direct messaging option.
Virtual exhibit (available and promoted to attendees one week prior to conference)
Recognition in conference app and support developing a robust presence within the app (sponsor attendee tags)
Bronze — $1,500
Two annual conference tickets
Standard recognition on all promotional and program materials including emails, website, signage, and electronic program.
Access to attendee list within conference app with direct messaging option.
Virtual exhibit (available and promoted to attendees one week prior to conference)
Recognition in conference app and support developing a robust presence within the app (sponsor attendee tags)
Exhibit-Only — $500
One annual conference ticket
Virtual exhibit plus recognition in conference app and support developing a robust presence within the app (exhibitor attendee tags)
Listing on Conference web page
---