Pandemic's Impact on Health Care Quality by Race, Ethnicity, Language, and Country of Birth Is Still Evident, Despite Improved Performance in 2021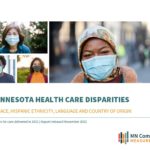 New report provides data to support health equity investment
Health care quality improved in 2021 for a core set of measures across categories defined by race, Hispanic ethnicity, language, and country of birth, according to a new report from MN Community Measurement (MNCM). The measures include care for chronic conditions like diabetes, heart disease, asthma, and depression, along with preventive care screenings for cancer and depression.
"The good news is that we saw many improvements in quality by race, ethnicity, language, and country of birth," said Julie Sonier, President and CEO of MNCM. "The bad news is that we still haven't made up ground that was lost in the first year of the COVID-19 pandemic, and we still have persistent disparities in quality and outcomes between groups."
Using one of the most comprehensive sources of data on health care disparities in the nation, MNCM's new report provides an update on health care disparities by race, ethnicity, language, and country of origin for Minnesota as a whole, with separate appendices detailing medical group-level results by race/ethnicity, language, and country of origin.
Key Findings
The report documents continued wide disparities in health care quality and outcomes by race, ethnicity, language, and country of origin using data collected by MNCM in 2022 that reflects care provided in 2021. Key findings include the following:
Groups that are most likely to have quality performance rates that are lower than the statewide average include Black, Indigenous/Native, Hispanic/Latinx; speakers of Hmong, Somali, or Spanish; and patients born in Laos, Mexico, or Somalia.
For many of these groups, the measure with the largest disparities compared to the statewide average is colorectal cancer screening, with rates that are 15 to 40 percentage points below the statewide average. This has important health impacts, because colorectal cancer is the second leading cause of death from cancer in the U.S., and early detection and treatment is associated with higher survival and lower treatment cost.
Despite improved performance for several quality measures in 2021 compared to 2020, results for many groups remain statistically below their 2019 rates. This is true for the population as a whole and for Black, White, Not Hispanic/Latinx, English-speaking, and U.S.-born. Some smaller subpopulations such as Indigenous/Native and Native Hawaiian/Pacific Islander also have lower rates for many measures in 2021 compared to 2019, but the changes were not statistically significant due to smaller numbers of people included in the measures.
One bright spot with statewide improvement and improvement within many subpopulations is adolescent mental health screening. The statewide average performance for this measure in 2021 was 91.2 percent, compared to 88.7 percent in 2019. Rates for nearly all subpopulations improved between 2019 and 2021, with some of the lowest gaps between groups of any quality measure.
"As an organization that brings together data from across the state to drive improvement in health care, MNCM is proud of the role that we play in shining a spotlight on disparities and helping to drive improvement," said Sonier. "The data that we produce calls attention to this important issue and helps to drive investment on many fronts to make progress toward health equity."
About MN Community Measurement MN Community Measurement is a nonprofit organization dedicated to empowering health care decision makers with meaningful data to drive improvement. A trusted source of health care data since 2005, MNCM is a statewide resource for timely, comparable information on health care quality, cost, and equity. Learn more at www.mncm.org.