President's Blog | Health Care Quality Report, Part 1 Insights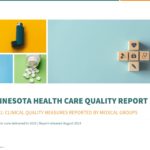 In late August, MNCM published its Health Care Quality Report: Part 1 for measures calculated from clinical data collected in 2023, primarily reflecting care delivered in 2022. The report includes data for a total of 20 clinical quality measures (11 for adults and 9 for children/adolescents).
Despite improvement in 2022 for some measures – notably optimal diabetes care, mental health screening for adolescents, follow-up for depression care, and the use of PHQ-9/9M for assessing symptoms in people who have depression — statewide performance for most measures is not yet back to pre-pandemic (2019) levels.
Statewide averages for 12 of the 20 measures included in the report showed movement in the wrong direction in 2022. Some of this was expected – for example, it is not surprising that colorectal cancer screening rates fell because 2022 was the first year that this measure was expanded to include people ages 45 to 49. However, some of the 2022 decline in statewide performance was more concerning: rates of optimal vascular care were 5 percentage points lower than in 2019, and the same is true of optimal asthma control for children.
Ongoing strains resulting from the pandemic — including workforce and financial challenges – are likely barriers to addressing the erosion in clinical quality. Anecdotally, we have heard about clinician shortages that make it hard to even keep up with the demand for appointments, never mind doing outreach to ensure patients are getting preventive or follow-up care.
However, we also know that even getting back to pre-pandemic levels would improve care and outcomes for thousands of Minnesotans. This isn't an end goal, of course, because we know that there was plenty of opportunity for improvement even then.
MNCM brings objective, trusted data to the table to shed light on how we are doing statewide and where we have opportunities for improvement – but we will need sustained and focused attention from all stakeholders – health care providers, payers, employers, and others – to focus on this problem. This includes addressing some of the pressing issues like workforce and financial challenges that are preventing greater focus on quality improvement, as well as longer term strategies that create the right incentives and opportunities for better health outcomes for all Minnesotans.
With gratitude,
| | |
| --- | --- |
| | MNCM President & CEO Julie Sonier |