Recent Analysis Shows Racial Disparities in Depression Treatment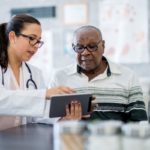 By Julie Sonier, MNCM President
I recently came across an interesting report on racial disparities in depression treatment by the Blue Cross Blue Shield Association. Published in May 2022, I found this report noteworthy for several reasons.
First, it directly addresses two topics that have been much in the news and the focus of attention from health care stakeholders of all types in the last couple of years: mental health, and racial disparities in health and health care. Both topics have taken on increased urgency considering the COVID-19 pandemic and the increased attention to racial disparities and racial justice since the murder of George Floyd in Minneapolis in May 2020.
Second, several of the findings are quite striking. The analysis suggests that major depression is likely significantly underdiagnosed in Black and Hispanic communities, especially in communities where there were fewer behavioral health care providers. Among those who do receive a diagnosis, the analysis showed disparities in treatment of depression, for both prescription drug treatment and counseling.
Third, there are substantial data limitations and hurdles that must be overcome to better understand and act on disparities. For this analysis, race/ethnicity was estimated based on the majority race/ethnicity among households by zip code. Given the data limitations and the urgent need for improved understanding of disparities, this approach represents a creative solution – but it is far from perfect and highlights the urgent need for better information if we are to make progress in improving health equity.
Though not directly comparable to the data analyzed in the Blue Cross Blue Shield Association study, the data on depression outcomes collected by MNCM also show disparities by race and ethnicity, as well as language and country of origin (RELC). In May, we published our annual report on disparities in quality metrics by RELC using data collected in 2021 (largely reflecting 2020 dates of service). Among adults diagnosed with depression, rates of remission at six months for Black, Hispanic/Latinx, and Indigenous Minnesotans were well below the statewide average (at 59 percent, 72 percent, and 73 percent of the statewide average, respectively).
MNCM is frequently sought out as a national leader in the collection of high-quality, comprehensive data on RELC that we use to understand disparities in care and health outcomes. We are proud of the collective work of our entire community to get to this point but know that there is so much more that needs to be done – related to improving the availability and reliability of data, but also in how data are leveraged to drive knowledge and action.
Given MNCM's focus on data to drive improvement, we are interested in hearing your stories about using the data for improvement in health and health equity. We also seek to partner with researchers, health care stakeholders, government agencies, and others on leveraging data in ways that generate insights and action. Please email us at support@mncm.org to find out more about potential ways to partner with MNCM on leveraging data or to share your stories of data-driven strategies for improvement in health care quality and health equity.